The Swansea Hospitals Radio service was founded on 1st August 1966 by Robert Rees, David Vaughan and Clive Thomas - three school friends who had been watching a television programme on radio in hospitals run by voluntary groups.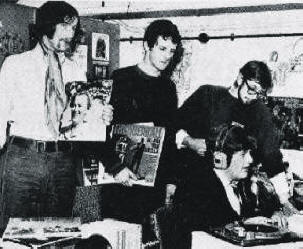 A 1960's shot with Chris Harper sitting and behind him Dave Bowen, Mike Evans and Glenn Jones.
Eventually, in November 1966, the hospital authority accepted the proposals and the service was launched at Morriston Hospital on a three month trial basis. Initially, because of accommodation difficulties, broadcasts were restricted to only four hours on Saturdays and Sundays. The first programme was recorded in a member's bedroom and went out on New Year's Eve, 1966. Soon, broadcasts extended to all day at weekends with classical, light, jazz and pop music as well as a Welsh language programme.
In 1968 a new studio at Singleton Hospital was opened which later became Radio City's base. The station at Morriston became a separate organisation, known as Radio LF.
Expansion followed with Mount Pleasant, Hill House, Cefn Coed, Gorseinon and Garngoch Hospitals all receiving Radio City's programmes. The hospitals were linked using a network of telephone land lines, all of which became very expensive to maintain.
Health Authority reorganisation and the closure of some of these hospitals has resulted in broadcasts now being consolidated at a now much-expanded Singleton Hospital, without the need for expensive land line links.
In 1991 the old prefabricated studios, by now extremely dilapidated, were closed and broadcasts moved to smart new purpose-build facilities within the new wing of Singleton Hospital. £10,000 was raised to fit out a first studio to broadcast standard and work has just begun on fitting out the second, initially as an editing/production facility.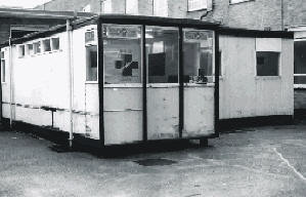 The Portakabin: The old studio which served us well until 1991. It didn't arf leak, though!
Current programming is broadcast 24 hours/day, with special full-day broadcasts at some bank holidays and at Christmas.
Radio City is dedicated to continuing and improving the service that it provides; some exciting ideas are in the pipeline.